Novel SOX10 Mutations in Waardenburg Syndrome: Functional characterization and genotype-phenotype analysis
Thongpradit, S., Jinawath, N., Javed, A., Jensen, L. T., Chunsuwan, I., Rojnueangnit, K., Tim-Aroon, T., Lertsukprasert, K., Shiao, M., Sirachainan, N., and Wattanasirichaigoon, D.
Front. Genet. (2020), doi: 10.3389/fgene.2020.589784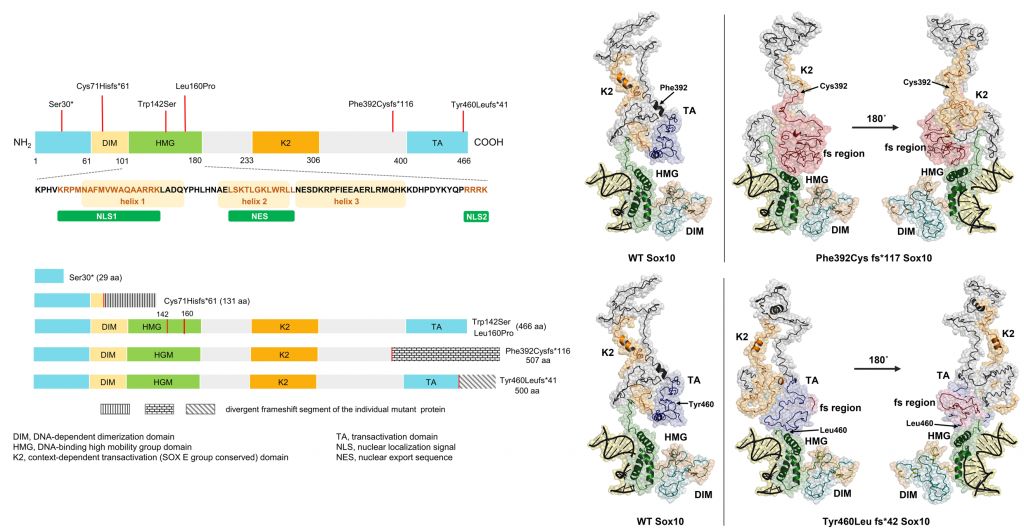 Waardenburg syndrome (WS) is a common form of hearing loss.  Using whole-exome sequencing and cytogenomic microarray the genetic defects underlying hearing loss in patients from six unrelated families were examined. Functional studies were performed to analyze genotype–phenotype correlations.  Six novel SOX10 mutations were identified, including c.89C > A (p.Ser30), c.207_8 delCG (p.Cys71Hisfs 62), c.479T > C (p.Leu160Pro), c.1379 delA (p.Tyr460Leufs 42), c.425G>C (p.Trp142Ser), and a 20-nucleotide insertion, c.1155_1174dupGCCCCACTATGGCTCAGCCT (p.Phe392Cysfs 117).  The results of reporter assays, western blotting, immunofluorescence, and molecular modeling supported the deleterious effects of the identified mutations and their correlations with phenotypic severity. The prediction of genotype–phenotype correlations, pathology, and dominant negative effect in SOX10-related WS were influenced not only by site and type of mutation (missense vs. truncation/frameshift), but also by the protein expression level, molecular weight, and amino acid content of the altered protein.  This in vitro analysis of SOX10 mutations provides a deeper understanding of the mechanisms resulting in WS and allows better prediction of disease severity using sequence analysis of the SOX10 gene.