Chemical-genetic interactions of Bacopa monnieri constituents in cells deficient for the DNA repair endonuclease RAD1 appear linked to vacuolar permeabilization
Huangteerakul, C., Hsu Mon Aung, H. M., Thosapornvichai, T., Duangkaew, M., Jensen, A. N., Sukrong, S., Ingkaninan, K., and Jensen, L. T.
Molecules (2021) doi: 10.3390/molecules26051207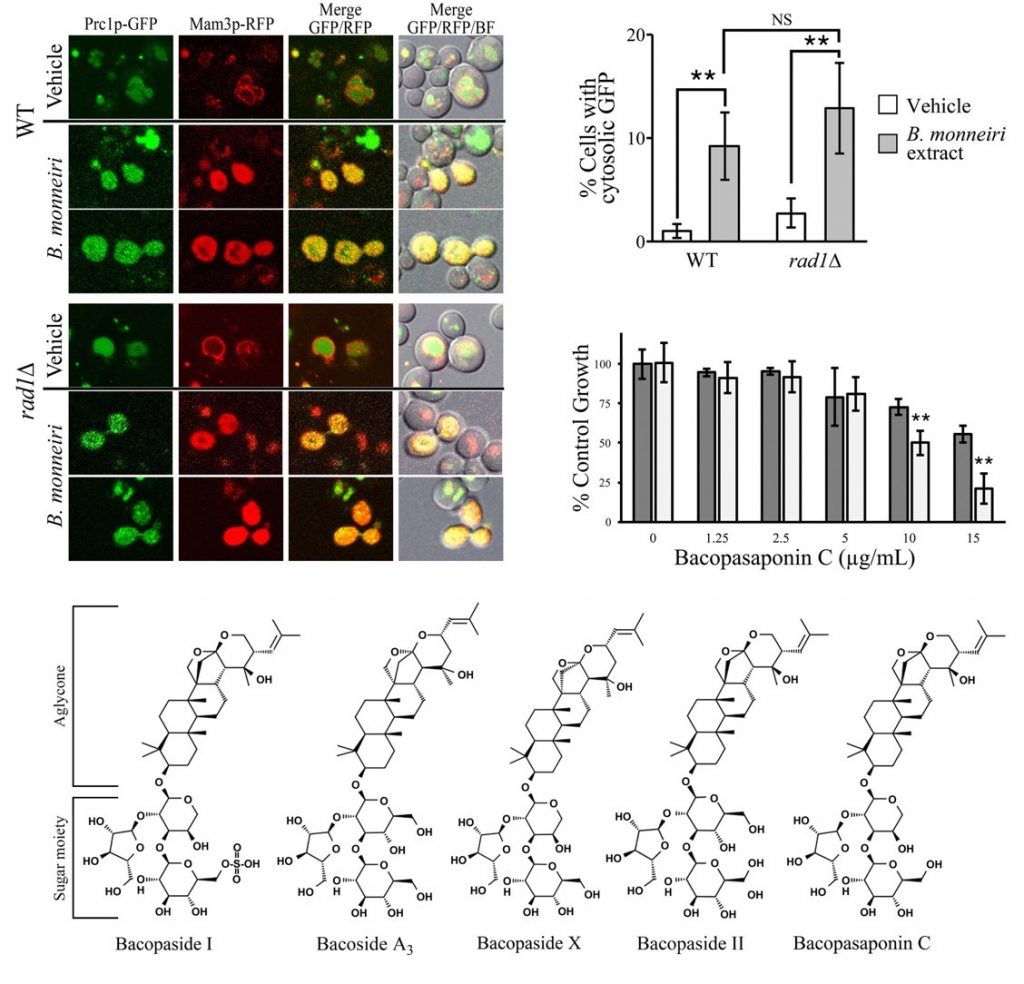 Abstract: Colorectal cancer is a common cancer worldwide and reduced expression of the DNA repair endonuclease XPF is associated with this cancer.  A Saccharomyces cerevisiae model of colorectal cancer lacking Rad1p, a structural and functional homologue of human XPF identified extracts from Bacopa monnieri as having anti-proliferative effects.  Our current analysis has revealed that B. monnieri extracts have the capacity to promote mutations in rad1∆ cells.  In addition, the effects of B. monnieri extracts on rad1∆ yeast is linked to disruption of the vacuole, similar to the mammalian lysosome.  The absence of RAD1 in yeast sensitizes cells to the effects of vacuole disruption and the release of proteases.  The combined effect of increased DNA mutations and release of vacuolar contents appears to induce an apoptosis-like event that is dependent on the meta-caspase Yca1p.  The toxicity of B. monnieri extracts is linked to sterol content, suggesting saponins may be involved in limiting the proliferation of yeast cells.  Analysis of major constituents from B. monnieri identified a chemical-genetic interaction between bacopasaponin C and rad1∆ yeast.  Bacopasaponin C may have potential as a drug candidate or serve as a model for the development of analogs for the treatment of colorectal cancer.