Overexpression of Pyruvate Carboxylase Is Correlated With Colorectal Cancer Progression and Supports Growth of Invasive Colon Cancer HT-29 Cell Line
Jarunya Ngamkham1, Chanitra Thuwajit2, Peti Thuwajit2, Peerapat Khamwachirapitha3, Kornkamon Lertsuwan3, Varodom Charoensawan3,4,5 and Sarawut Jitrapakdee3
1Graduate Program in Molecular Medicine, Faculty of Science, 2Department of Immunology, Faculty of Medicine Siriraj Hospital, 3Department of Biochemistry, Faculty of Science, 4Systems Biology of Diseases Research Unit, Faculty of Science,
5Integrative Computational BioScience (ICBS) Center, Mahidol University, Bangkok, Thailand
Source: Anticancer Res 40 (11): 6285-6293.
Colorectal cancer (CRC) is the third most common cancer which affects people worldwide. CRC is caused by the transformation of normal epithelial cells lining in the colon or rectum to cancerous cells.  Pyruvate carboxylase (PC) is a metabolic enzyme that plays a role in replenishing oxaloacetate, one of the crucial TCA cycle intermediates. Recent studies have shown that PC protein is highly expressed in various types of cancer. However, the involvement of PC in CRC is unknown. Here, we show for the first time that PC is overexpressed in cancerous colon tissue of CRC patients, and its expression level is associated with several clinicopathological parameters, such as advanced stage, lymph node and perineural invasion and poor prognosis.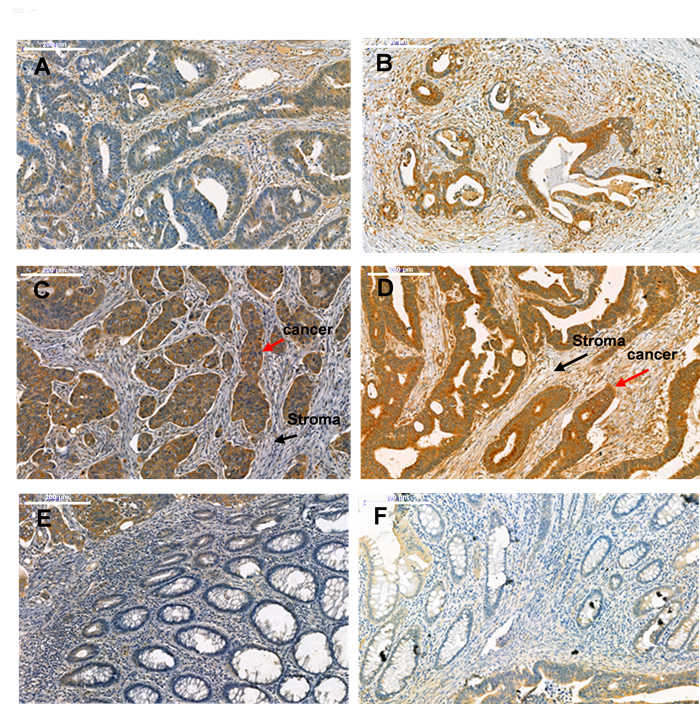 Figure 1. Expression of PC in paraffin-embedded tissues of CRC patients with stage I (A), II (B), III (C) and IV (D) by IHC staining. (E) and (F) indicate the non-cancerous area adjacent to the cancerous area in CRC stage 3 and 4, respectively. Original magnification 20x. Scale bar; 200µm. Red arrows indicate cancer and black arrows indicate stromal area within tissues with CRC stages III and IV.
PC expression levels were significantly correlated with age (p=0.037), late stages (3 and 4) (p=0.001), perineural invasion (p=0.003) and lymph node metastasis (p<0.001). Other parameters including histological type, gender, diagnosed cancer site, tumor size, lymphovascular invasion and local metastasis (liver, lung or ovary) did not appear to correlate to the PC expression levels (p>0.05).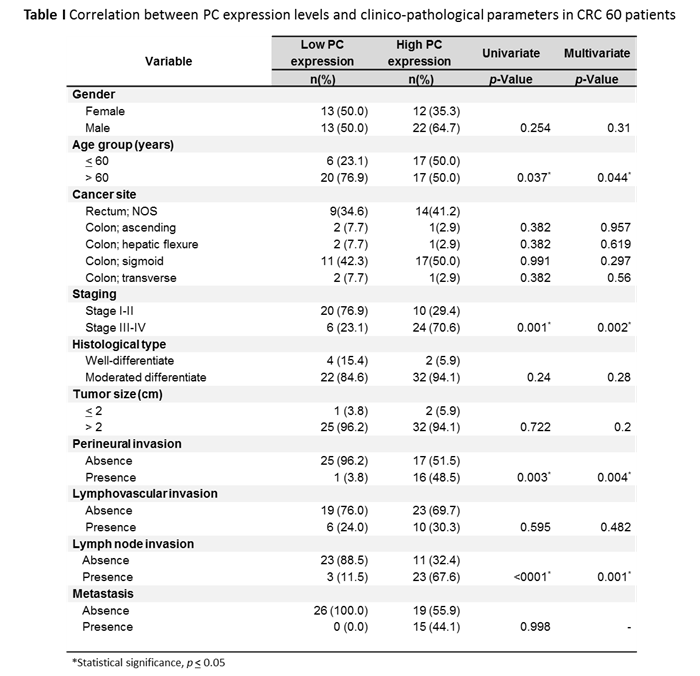 In conclusion, our results presented herein demonstrate that a high PC expression level is significantly associated with certain clinical parameters including stage, lymph node metastasis and perineural invasion in CRC. In this regard, PC could be used as an effective biomarker in CRC from Thai patients. However, the exact functional role of PC in cancer development in CRC is still unknown, but the potential biomarker could be used for monitoring the patients' further management in order to prolong survival time.